News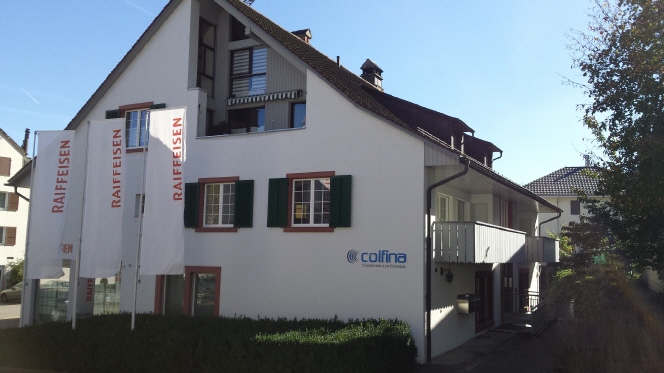 Our offices are centrally located and easily reachable with public transport. The entrance is at the back of the Raiffeisenbank building. Parking spots are available.

Our office hours: Mon – Fri 8 am to 11:30 am and 1:30 pm to 5 pm. Please contact us per phone or e-mail for appointments outside office hours.
13 November 2018: New phone number
Due to changes to our phone system you will reach us as of 30 November 2018 under our new phone number 062 544 34 00.
13 November 2018: Changes to the Colfina team
Amire Abazi, Ali Esen and Frank Stuhr will leave Colfina Finanz/Treuhand to pursue new professional challenges. Mrs Abazi and Mr Stuhr will leave the company per 31 December 2018, Mr Esen per 31 January 2019. At the same time, Nadja Güntert will join our team per 1 January 2019 and Sandra Ott per 1 February 2019.
21. Dezember 2017: Postagentur Eiken
Ab dem 3. Januar 2018 werden Sie bei Colfina Finanz/Treuhand AG auch Ihre Postgeschäfte erledigen können. Die Postagentur steht Ihnen während folgender Öffnungszeiten zur Verfügung:
Montag bis Freitag: 08:00 bis 11:30 Uhr und 14:00 bis 19:00 Uhr
Samstag: 08:30 bis 11:00 Uhr
21. Dezember 2017: Änderungen im Colfina-Team
Herr Benjamin Waldmeier wird Colfina Finanz/Treuhand AG per 31. Dezember 2017 verlassen, um eine neue Herausforderung anzunehmen. Wir bedauern sein Ausscheiden und wünschen ihm alles Gute für die Zukunft. Gleichzeitig heissen wir Frau Patricia Mayer herzlich willkommen. Sie hat ihre Stelle am 1. Dezember 2017 angetreten.
13. September 2017: Unsere Firma ist nun Mitglied beim Versicherungsgütesiegel Cicero Certified Insurance Competence
Cicero ist das Gütesiegel für kompetente Beratung und regelmässige Weiterbildung Ihres Versicherungsbe-raters. Besuchen Sie Cicero für weitere Informationen.
Registered insurance intermediary VAG
Investment funds intermediary licensed by Swiss Financial Market Supervisory Authority